I have seen some amazing pictures taken, and then found out that they were taken with a smartphone. A lot of them were taken with Instagram and apps like Instagram. They were filtered through an an app and posted online. Better than my professional Nikon D7000 that I paid a lot of money for (okay.. it could be photography novice error).
Do our smartphones make us good photographers? Considering how many photos we take of ourselves, our SOs, our kids, our events, we learn how to make the best of the photographic equipment right in our own phones.
There are even special attachments and upgrades that we can get for our smartphones to make them perform more like professional cameras, video and audio recording equipment.
Have you seen the selfie stick?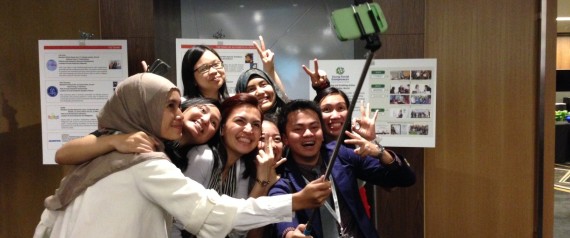 *source: huffingtonpost
We can use apps to add the spit and polish that will make our photos shine. That is one of the reasons that Instagram is so popular.
Instagram has simplified the photography process, by creating certain filters that give each photo a vintage look. Instagram created their own social media platform and works exclusively on smartphones. Brilliant.
However, did you know that there are other apps out there, that you can use to create awesome-looking photos?
Some people can find Instagram limiting.
Here is a quick Instagram Tutorial Before going into other Instagram programs for photo editing.

If you love Instagram, but want to try something different, check out these apps like Instagram that make your photos look professional.
11 Apps Like Instagram 
1. Hipstamatic
The first on our list of apps like Instagram is Hipstamatic. It creates dynamic vintage-style photos. This application features vintage camera effects that have deeper, more dramatic effects than Instagram. It makes your photos look seriously professional, depending on the filters you use.
Remember, there is no magic bullet, it all depends on what you photograph. A burrito will still look like a burrito, not a BURRRRITO!!!
Still, check out some of these shots filtered with Hipstamatic. It is more of manual editing, where you can customize a picture more compared to the usual choosing of a fixed style. You can choose different kinds of lenses, films, and flashes in order to achieve a perfect vintage look that you desire.
Cost: $1.99
Sharing: Facebook, Tumblr, Flickr, Instagram
Android and iPhone: iPhone only
Video: Download app called Cinamatic
 2. Camera+
If you want the mother of all filter choices, look no more. Camera+ has a ton of filters to make your photos look aged, dramatic, whimsical, artistic, nostalgic and more. Camera+ also has a feature that will automatically fix your photo. All you have to do is choose the "clarity" option. You can shoot from the app or import a picture already taken. It has special effects and lighting filters that you can mix, match and combine to give each photo a unique, filtered look. You can also share your photos after editing it by using variety of photo editing tools so you do not need to stick with a typical fixed filter.
Cost: $1.99
Sharing: Facebook, Twitter, Flickr
Android and iPhone: iPhone only
Video: No
3. Cinemagram
Cinemagram is one of those apps like Instagram – it has about 16 filters, with that similar, vintage look. But, it has an exciting twist. With Cinemagram you can produce animated photos, rather than just your average still-frame. The app would ask you to take a very short clip of something you want to post and it converts it into a still one. Then, you can choose which part would you like to be animated. Cool feature? You can animate one part of the photo and do it in under a minute. Share with their in-app social media sharing function and you are done.
Cost: Free
Sharing: Facebook, Twitter, Tumblr
Android and iPhone: Both
Video: Yes, animated photo
4. Camera 360
Out of the apps like Instagram, this app offers Instragramish effects and more. Camera360 offers not only retro filters, but also other features that can Camera360 is an app that really allows you to get creative. Each effect, though does not take too long to do. It has an effect store, a cloud function and the ability to share with different social media platforms. There are no ads and no insistence in promoting paid content.
It can also auto enhance a photo, clear up skin blemishes, sharpen and clean up colors.
Cost: Free
Sharing: Facebook, Twitter, Flickr
Android and iPhone: Both
Video: No
5. PhotoWonder
Easy and fast to use, PhotoWonder for Android/PhotoWonder for iOS has its own unique angle to filtering smartphone photos. Unlike others that have extensive features, PhotoWonder focuses on having a few filters, but making them some of the best filters around. It also has other cool features, like the ability to create collages out of your photos. You can also create some photobooth effects. Made by Baidu, the Google of China, this app also comes in a wide variety of Asian languages, as well as English.
It has vignette features with subcategories to use. It's most famous claim to fame is that it has the most amazing editing effects – it can make you look younger and even thinner.
Just like other apps like Instagram, you can add frames to your photos. PhotoWonder also allows stickers and other decorations.
Cost: Free
Sharing: Facebook, Twitter, Flickr, WeChat, QQ
Android and iPhone: Both
Video: Yes
6. Pixlr-o-matic
Not only can you use the camera app for your smarthphone, but you can also capture images from your webcam or upload from your computer with Pixlr-o-matic! You can even download an application to work on photos – even if you don't have an internet connection. This amazing application lets you choose from variety of vintage filters and you can also add natural looking designs that goes perfectly with each filter, this application definitely defines impressive.
There are over 2 million combinations of free effects, overlays, and borders. You can capture or upload and image and make the filter almost completely unique to you. personalize your image. Pixlr Express makes you look like a pro, even if you've never edited a photo before.
Cost: Free, Pro version $0.99
Sharing: Email, must set up individual social networking apps in order to share
Android and iPhone: Both
Video: No
7. Flickr

Flickr is extremely popular, and is known for housing some epic works of photography. Diehard Flickr fans know that they have an app, and it is one of the apps like Instagram, but did you know about this little gem? This is somewhat an old application, but after the developers enhanced its overall features, you can definitely level it now to Instagram. It has more filters to choose from and you can post your picture, share, and more.
You can all your pictures in one place and access them on your Flickr account on your computer. Filter, edit, crop and do everything and more with Flickr's advanced features, like Levels, Crop, Color Balance, Contrast, Saturation and more. You can make your photos public or private and store them with up to 1,000 GB of storage. Follow your friends and keep in touch, just like on the website. You can even take HD videos. This app has everything.
Cost: Free
Sharing: Flickr, Facebook, Tumblr, and Twitter.
Android and iPhone: Both
Video: Yes
8. Vignette
Vignette is one of the best apps like Instagram that you can try, this application offers tons of vintage filters. They also have more adjustable setting that you are sure to enjoy. Use more than 70 customizable filters and 50 frames in any combination to create many photo effects. Vignette is also a full-featured camera application, featuring digital zoom, time-lapse, self-timer and more. They have photo-booth and double exposure (for those cool photo effects), touch to focus, and you can even use your Bluetooth to snap pictures remotely.

One cool new features is the random effects. If you want your photos to come out looking great without constantly having to decide what effect you want, this is definitely for you. Also, the photos are saved to your phone, until you decide to upload them.
Note: The Vignette app I am featuring is made by Weavr. It is only available on Android.
Cost: $1.66
Sharing: With other Vignette users, and via third-party apps (Facebook, Twitter, etc.)
Android and iPhone: Android
Video: Yes
9. PicLab HD
PicLab is an awesome app if you love to create professional-looking memes or photos with text. The typefaces are simplistic and the filters are retro – definitely a nice-looking way to deliver your message. You can capture a photo from the app or grab one from your camera roll.
You can also add drawings, stickers, and other design features. You can change colors and opacity. As well as adding typography – lots of fonts and full control over size, positioning, opacity, rotation, and colour – you can also layer illustrations, ornamentation and other design elements on top of your image.
PicLab HD has lighting and film effects to enjoy. If you like to create fast, professional-looking photos with great messages, and creating them quickly, this app is for you.
Cost: $1.99
Sharing: Facebook, Twitter, Instagram
Android and iPhone: Both
Video: No
10. PicYou
PicYou is another app where you can upload directly to the web and access anywhere. This is also a photo-sharing app, it provides more filters that you can use before sharing your photo. PicYou is very social, with a lively online community.
PicYou is used by a lot of young adults and teens, but it is also a great platform for adults that want an app that creates great retro pictures and can be accessed by a computer.
Cost: Free
Sharing: Facebook, Twitter
Android and iPhone: Both
Video: No
11. FxCamera
Last, but not least, is FxCamera. It has over 40 filters. Their claim to fame is the fact that they allow and even enhance, your creativity. You can create story lines and use very nice filters that make your photos pop with color, be dramatic, or simply enhance them. There are effects like symmetric, which have a mirror effect on your pictures, and poster, which allow you change your photo into an Andy Warhol-like masterpiece!

One very unique feature is Voice Picture (only available on iPhone), which enables you record a voice message as you are snapping pictures. You can even share Voice Pictures on Facebook. It is an awesome feature that allows you to narrate a scene without using video.
Cost: Free
Sharing: Facebook, Twitter
Android and iPhone: Both
Video: No
A final word on apps like Instagram

…

Our smartphones, paired with these awesome apps like Instagram, as well as Instagram itself, have turned us into photo aficionados. We have become the anthropologists of our own lives, documenting and photographing every day life as it happens. It is a creative outlet for us.

Photos are also a way for us to record life the way we want to remember it. A series of snapshots, moments in our own history, that showcase elements we are proud of, moments that are messy but relevant, moments that we can look back on and see how far we've come.

Some of these apps like Instagram are free, some cost very little; I made sure that I provided a list of apps that are either free or won't break the bank.

Why? Because I love to see freedom of self-expression. Why limit yourself to just one app?

I know, some of you are diehard Instagram fans. You don't want to make the switch. That's OK. You can also upload these photos saved on your phone to Instagram and really wow your large following. Why not give some of them a try?

If you are a fantastic photographer, why not try to making a little money with apps like Instagram, shooting photos off of your smartphone and filtering them?

Once you shoot some photos, share them with me. |
Post some fantastic pictures by going to my Facebook page.

Look forward to seeing pictures from you soon.

Also in the Comments Below:
Are there any Apps like Instagram I'm missing you would like to mention?

Happy picture-taking!