If your looking for a SECockpit bonus you came to the right spot.
Remember, SECockpit on it's own is just a tool and like any tool if not used properly will not do the job. I would rather you not buy SECockpit and to never use it or worse use it incorrectly to drive traffic.

SECockpit Bonus – Learn How To Maximize Results
One of the things I see a lot when people are doing keyword research and even when using tools like market samurai or SECockpit is that they think it's the ONE thing they need to get down to get traffic.
You gotta remember that TRAFFIC comes in many forms.
You are going to miss out on a ton of traffic if your only going to start SEO traffic. There are other ways to boost your traffic daily while your waiting to rise in serps.
And this is exactly where my bonus is coming from.
Traffic Comparison With SECockpit – March 2011 to June 2011
I want you to look at this image.
To understand what I'm doing here I did a Google Analytics traffic comparison from the month of March 2011 to June 2011. I wanted to show the differences and also what else I was doing.
How I Got My Daily Traffic 878.8% Higher
Instead of posting once a week I started to post daily
I did NO article spinning or backlinking using article marketing tools. No backlinks from these sources. I actually STOPPED cold turkey and only use this one NINJA tool (hint it will blow your mind) – Click Here to Check it out
I used SECockpit and Market Samurai – I know what your thinking. You used 2? I like to have a last minute check on competition which Market Samurai does very well even though it's time consuming (but only do it for the main keywords versus keyword digging)
To me, a 878.8% daily traffic spike and to have it carry over on and on without using any PPC is just mind blowing. I mean what else out there can do this…?
Some of you have something but does it do it on AUTOPILOT?
CRAZY!
So what is the SECockpit Bonus I'm offering for those who buy from my link?
1) I'm going to show you the exact training I give my team on how I do this. I"m going to show you step by step on how to rip up the traffic in almost any sector (sorry, don't think my training will help you adult website guys)
2) I will include you in my live trainings I do. I dive into the different aspects of what my business does and this is just ONE of my websites. I will be doing some websites to maximize your output with SECockpit from time to time.
3) I'm going to give you a free tool that will get you backlinks on AUTOPILOT. Yeah. you heard me. The tool is free (I would invest in the bigger packages but…) and will do a ton of work for you. Now the base package is free and I want to be completely transparent that the free tool will have a harder time doing what I just did to that level. It will get you backlinks on autopilot but not to the SWARMS i'm getting now. Just put it this way.
It's free and will get you backlink for free. If you want more you gotta upgrade.
So what do you gotta do to get my SECockpit Bonus?
1) Make sure you click my link for SECockpit and make sure your cookied to me. The best way to do this is clean out your cookies or just use another browser.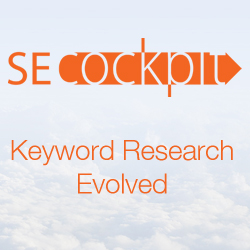 2) email me your receipt number (paypal transaction number) to my email at lawrencemlm [@] gmail [.] com. Obviously you need to spell it out as  I don't want spammers all up in my email box.

Once you Buy SECockpit I would love if you would comment below on tips or hidden gems you have found to increase your ability to find those "diamond" keywords 😉
I really do appreciate your business and hope I can show you how to use these tools to it's full effectiveness. I really do believe tools are time savers but one must really know HOW to use them.